Acquiring an ATF Federal Explosives Permit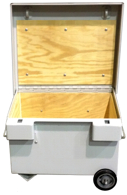 From May 1, 2011, the Bureau of Alcohol, Tobacco, Firearms, and Explosives (ATF) requires a Federal Explosives Permit for the use of Explosive Pest Control Devices (EPCDs). The Application Form is basically the same for a License and a Permit.
Below are links we think will help you, and a document to alert you to information you will need for the process.
Our Bird Banger and Screamer Siren cartridges do not require an ATF Permit.
For our Bird Banger EXP, ShellCracker and CAPA, you will need a Permit.
In summary, ATF requires that you have a Permit for Bird Banger EXP, ShellCracker and CAPA; all the paperwork is listed below under Documents and Forms. You will need a Type 2 storage magazine; you must maintain records of removal from the magazine. You also need to know your local zoning and State requirements, for an interview with ATF. You must notify your local fire authority immediately upon your possession of the pyrotechnics.
Federal, State, and local agencies are not required to possess a Permit or License, but must maintain proper storage and record-keeping in accordance with ATF regulations.
FEES: $100, renewable every 3 years. Renewal fee is $50.
HELP: We compiled a summary document with information that we believe will help.
DOCUMENTS: A completed Application Form, a Fingerprint Identification Card, a 2" x 2" photograph, and a check, money order or credit card (no cash); and an Employee Questionnaire, for any employees who handle the pyrotechnics.
FORMS: The forms you need can be downloaded here:
Application Form ATF 5400-13
Employee Possessor Questionnaire ATF 5400-28
Sample Fingerprint Identification Card Form FD258
STORAGE: ATF Storage Requirements
RECORDS: ATF Record Keeping Requirements
FIRE: Find your local Fire Station
STATE GOVERNMENT: A link to your State Government Don't forget to check your local Government's pyrotechnics regulations.
ATF: About becoming a Federal Explosives Licensee and FAQs
About storage:
Tel: (202) 648-7120. tbceipb@atf.gov
About the application form:
Tel: (877) 283-3352.
Fax: (304) 616-4401. felc@atf.gov
All pyrotechnic purchases from Reed-Joseph International Company still require a completed Wildlife Control Statement.
Please do not hesitate to contact us.